Part Number:
22320LK-T090
Divinol Lithogrease 000 grease by Zeller+Gmelin
Divinol Lithogrease 000 is used for roller lubrication of linear guides on machine tools. It is also suitable for the lubrication of mechanically highly stressed gears. The product is easy to pump in central lubrication systems. Zeller+Gmelin have received approval from DMG Mori Seiki, Willy Vogel AG, MAG Powertrain (FFG Group) and BMW AG.
Due to its low consistency, Divinol Lithogrease 000 has a significantly better flow behaviour than a comparable grease of NLGI class 00.
This Zeller+Gmelin grease is a high grade lithium complex soap grease. It is water resistant, corrosion and oxidation resistant, high pressure absorbtion capacity and has excellent wear protection properties.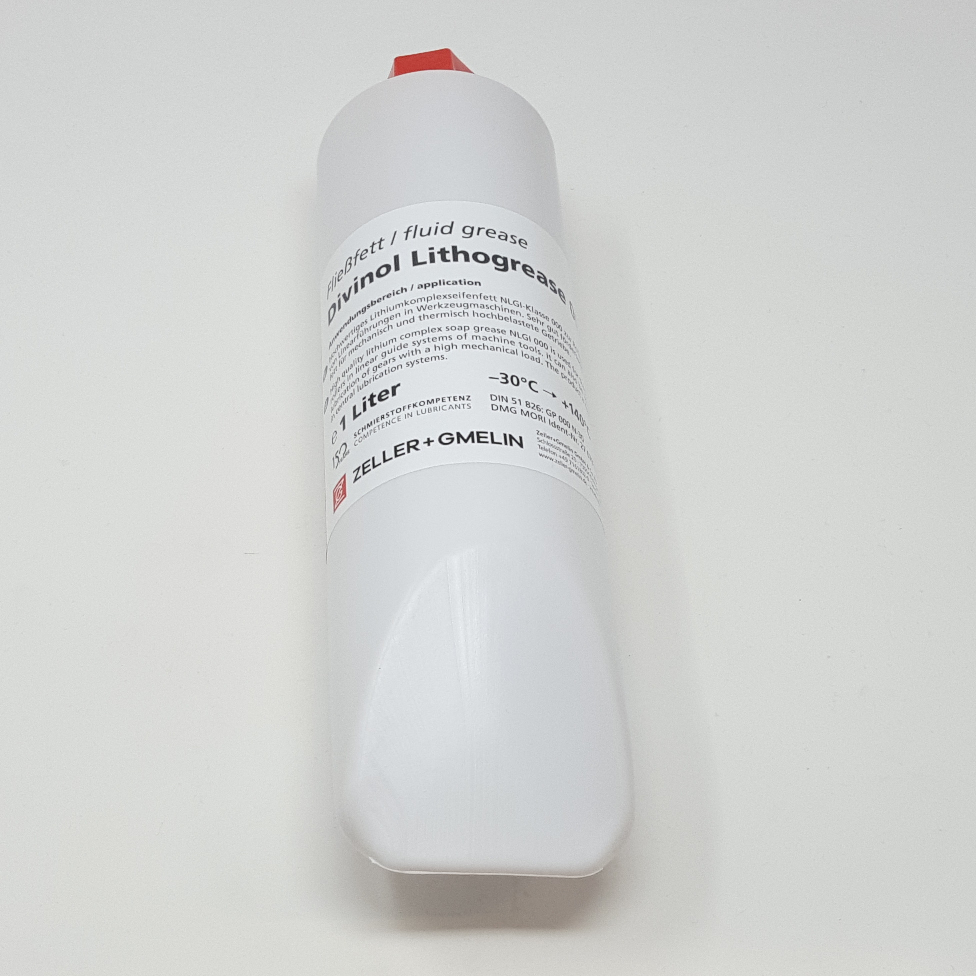 The classification of the grease is GP 000 N-30 as per DIN51826 and ISO-L-XCDHB as per ISO6743-9.
high quality lithium complex soap grease
flex-stable
water resistant
corrosion and oxidation resistant
very good wear protection properties
high pressure absorption capacity
Marking according to DIN 51 826: GP 000 N-30
Marking according to ISO 6743-9: ISO-L-XCDHB 000
Product features of the Divinol Lithogrease 000:
| | |
| --- | --- |
| Colour / Appearance | Yellow |
| Thickener | Lithium complex soap |
| Temperature Range | -30°C to + 140°C |
| NLGI Class (DIN51818) | 000 |
| Base Oil Viscosity / 40 ° C (ASTM D7042) | 380 mm²/s |
| Drop Point (DIN ISO 2176) | > 160°C |
| Walk Penetration / 0.1MM, 60 Double Stroke (DIN ISO 2137) | 460 |
| Walk Penetration / 0.1MM, 5000 Double Stroke (DIN ISO 2137) | 465 |
| Flow Pressure at -20°C (DIN 51805-2) | 300 hPa |
| Oil Separation 18H / 40°C (DIN51817) | 5% |
| Corrosion Effect on Copper 24H / 100°C (DIN 51811) | Degree of corrosion 1 |
| VKA Welding Force (DIN 51350-4) | 2800 N |
| FZG Test A / 2.8 / 50 - Damage Load Level (DIN ISO 14635-3) | > 12 |
| FZG Test A / 2.8 / 50 - Specific Weight Loss (DIN ISO 14635-3) | 0.1 mg / kWh |
| Divinol Lithogrease 000 Grease Cartridge Size | 1 Litre |
| | |
| --- | --- |
| Colour / Appearance | Yellow |
| Thickening Agent | Lithium Complex Soap |
| Operating Temperature Range | -30°C to +140°C |
| NLGI Class | 000 (DIN51818) |
| Base Oil Viscosity | 380 mm²/s (40°C, ASTM D 7042) |
| Dropping Point | >160°C (DIN ISO2176) |
| Worked Penetration (0.1mm, 60 Double Strokes) | 460 (DIN ISO 2137) |
| Worked Penetration (0.1mm, 5000 Double Strokes) | 465 (DIN ISO 2137) |
| Flow Pressure at -20°C | 300hPa (DIN51805-2) |
| Oil Separation (18H/40°C) | 5% (DIN51817) |