AKJ569 Daikin Immersion Cooling Unit
The new Daikin '9 series' hybrid oil cooling units save you money in four distinct ways:
Energy
Advanced IPM motor technology and R410A refrigerant reduces energy consumption and is monitorable through the operation panel, allowing longer unit life, reduced energy costs and sustainable savings.
Temperature Control
The high accuracy temperature control has been advanced further in the '9' series due to the optimal control of the compressor and electronic expansion valves.
Alarm Functions
State-of-the-art features provide proper maintenance support with refrigerant gas leakage detection, an oil temperature warning, auto-tuning, a 999-hour timer and preventative maintenance function that notifies the operator when the air filter or condenser is clogged.
Compatibility
90% of all standard industrial applications can be replaced by a Daikin hybrid unit allowing for much greater continuity in your factory, and reduces the amount of new units and spare parts required to be held in stock.
High-accuracy temperature control and first class energy saving by fusing "Hydraulic Technology" and "Inverter Technology".
The usable fluids for this AKJ569 Daikin Immersion Cooling Unit are lubricating oil and mineral oil based hydraulic fluid. The viscosity range of the oil is 0.5~200 (ISO VG2~32).
The room temperature operating range is between 5~45°C and the inlet oil temperature operating range is 5~50°C.
The AKJ569 Daikin Immersion Cooling Unit footprint is identical to the previous versions of the Daikin units which enables a straight-forward replacement of your old unit and we can also retro-fit a new Daikin unit to suit any of your other current cooling units.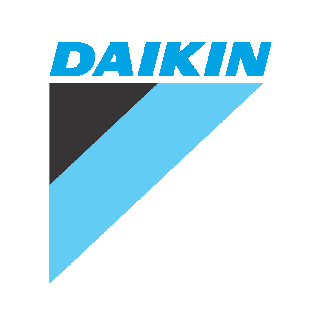 We hold stock of a significant range of the '9' series cooling units and can adapt the models we have to suit your specific machine tool manufacturers requirements. We also offer a 1 year warranty on all cooling units,
| | |
| --- | --- |
| Cooling Capacity (kW) | 5.0/5.6 |
| Power Supply | AC 3-phase 200/220V 50/60Hz |
| Height | 1440mm |
| Width | 470mm |
| Depth | 500mm |
| Compressor | Equivalent to 1.5kW |
| Refrigerant | R410A |
| Noise | 65dB(A) |
| Weight (kg) | 72 |
Daikin
Filter mesh for the Daikin '8 series' and '9 series' cooling units
Daikin
Condenser for the Daikin '9 series' cooling units.