Part Number:
HS1L-RKMRP-1-TK2787
HS1L-RKMRP-1-TK2787 IDEC Door Interlock Switch
 The HS1L series interlock with solenoid has the following:
3000N locking strength (which is the largest in class)
It is suitable for large and heavy doors
The same actuator as the HS1E series (actuator retention force 3000N)
Six contacts in a compact housing (same size as the HS1E series)
Same dimensions and mounting hole layouts as the HS1E series (Size: 35 × 104 × 129 mm)
Door open, closed, and locked statuses can be monitored for various applications
Energy efficient new solenoid unit and has 32% less solenoid current consumption compared with the HS1E series
Manual unlock key and LED indicator are fitted as standard
Manual unlock key allows for manual unlocking in the event of power failure or maintenance requirements
Indicator has an independent circuit, and can be used for various purposes
Two locking mechanisms to choose from - a spring lock (unlocked with energised solenoid) or a solenoid lock (locked with energised solenoid)
M3 terminal screws for wiring
Wide operating temperature range (–20 to +55°C).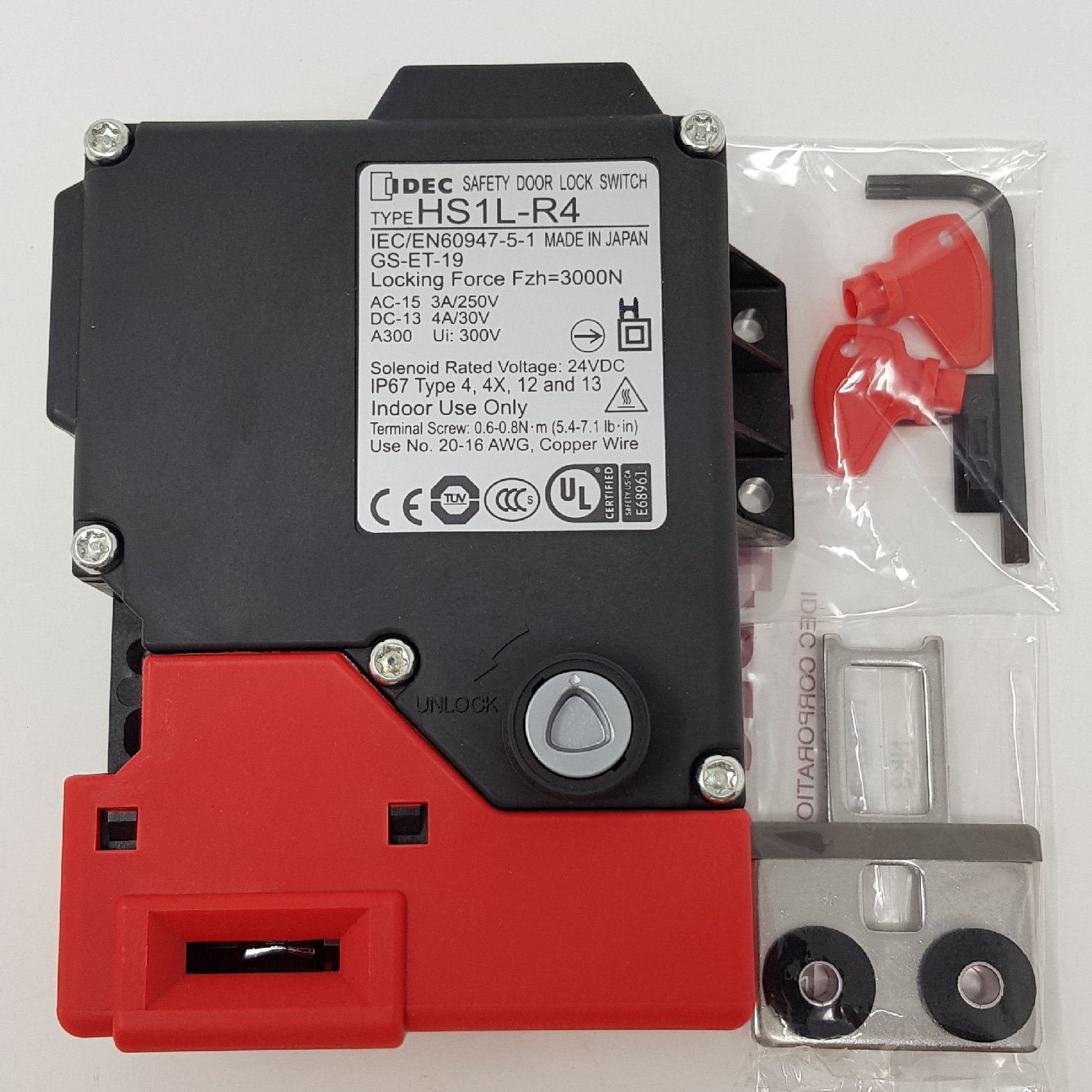 This HS1L-RKMRP-1-TK2787 IDEC Door Interlock Switch has been made exclusively for use on a range of DMG Mori Seiki CNC machine tools. This switch replaces a range of door interlock switches from IDEC including the HS1E-140, HS1E-340, HS1E-540, HS1E-740 and HS1E-7KLMBP-TK2213.
Some of the specific DMG Mori Seiki part numbers for the HS1L-RKMRP-1-TK2787 are E66562A, E66643A, E66561A, E66472A, E66470A, E6649A, E66322A, E66165A, E66164A, E66163A and E66162A.